Do you recognize her?
If you are a blogger and tumblr user, you probably do. She's easy to find in reblogs, gifs, avatars or more artistic collages.
She can look also like that: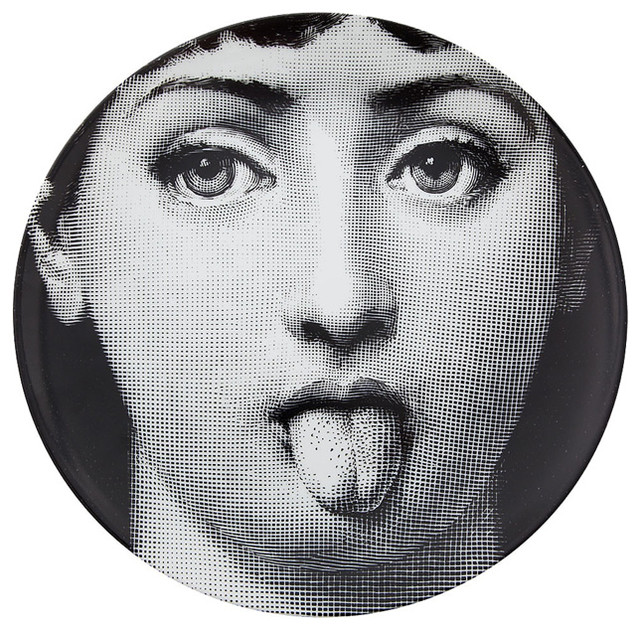 And where you can find here outside the internet?
Well... on plates.
Because it was Piero Fornasetti who made this sketch famous by putting it on his plates collection. He was a painter and sculpturer but now is best known for being a designer of room accessories.
For Piero Fornasetti, a single idea provided enough inspiration to create infinite variations. In fact, much of his work involved constant evolutions of specific themes. By allowing his imagination to roam freely. Fornasetti was able to constantly reinvent or reinterpret an image.
...but the most famous, the image that inspired Fornasetti to coin the title 'Tema e Variazioni', is the enigmatic face of a woman.
Her name is Lina. Natalina Cavalieri - famous opera singer.
Lina Cavalieri's face, explained Piero Fornasetti, was another archetype – a quintessentially beautiful and classic image, like a Greek statue, enigmatic like the 'Gioconda' and therefore able to take shape into the idea that was slowly building in his mind.
Now, Lina is a design icon. But she lived. And she was a real, beautiful woman. So let's stop for a minute and look at her.
It's a face you never forget.
And that voice
That's a true muse. She must be an angel now, if there are angels.
But whatever - she's worth following.